This is the story of this blog, from scratch.
I was lying in bed after eating too many Thanksgiving leftovers and thinking something along the lines of «That turkey I made was just delicious.» Yes, I know, you are not supposed to praise your own cooking, but I got taste buds too, ok? Plus, I was in a foreign country, celebrating a foreign holiday, cooking from scratch a foreign meal, and everything was fantastic; I believe I deserved some self-credit.
And then it came, the «Aha!» moment. It just clicked.
I have been cooking since I was a teenager. I have been taking pictures since puberty. I have been writing since I was four. I have been traveling since I was a fetus, literally.
I grew up in a multicultural house where everything was always made from scratch. I do not recall a single frozen meal, apart from the occasional fish fingers, or a refrigerated pie crust, or any box of cake mix. My mom, my aunt and my grandma are all excellent cooks. My grandfather, besides being an incredible poet, was nothing short of a chef –if only health laws had nothing against cigarette ashes as a condiment. All of our family gatherings have always been around a long table where too much food, above all desserts, was displayed. And my dad made sure, each time, that those wonderful, warm and delicious moments were captured forever with his camera.
With this background, sharing my recipes and their pictures, and writing a little bit about those dishes and how I came across them in my travels, just seems organic. And, if my partner and I, when we find ourselves at fork in the road upon our arrival to Spain, decide to travel around the world instead of settling down, I will have many more recipes, experiences and photographs to share.
All the same, I am an unapologetic gourmand and already have a history of trying to cook dishes from all the places I visit. Sometimes with great success. Others, not so much; like that horrible terrible scary attempt of a gingerbread house, where fingers were burnt with caramel and hopes of a white Christmas crushed. This was the very best angle from which I could shoot my work: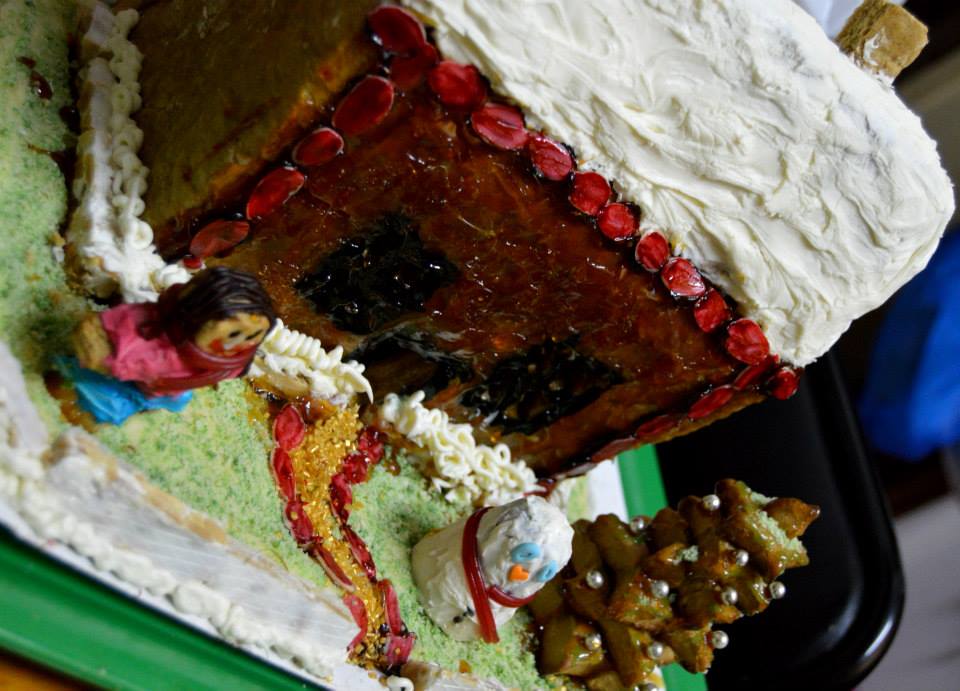 So here I am. Ready for a fresh starter –I mean, a fresh start! as a food/travel writer.