Last Sunday was Mother's Day in the United States and several other countries. Here, in Spain, it was the Sunday before that; and in France it will be next Sunday. We might not agree on a specific date but, to my knowledge, almost every country sees the need to celebrate mothers.
Like virtually every tradition there is, it has the potential of generating some conflict, for those whose mothers are not precisely a role model, or sadness, for those who have lost their mother. Nevertheless, as I've mentioned in some posts, I'm incredibly lucky in most of the aspects of my life, and my mother is a big, huge part of such luck. So, two Sundays ago, I decided to bake her a trip down memory lane.
Before she became a mother, back when she was dating my father, they used to go to this bakery in my home town which apparently made delicious strawberry tarts. She has described them to us several times, fresh strawberries laying in a buttery but light puff pastry spread with a thin layer of homemade custard. A couple of years ago or so, for this same occasion, my siblings and I wanted to give her a taste of her former life and went to the same bakery and bought the dessert. My mom was very grateful for the thought, but visibly disappointed. In that bakery, which had grown greatly in those then almost 30 years, quality had given way to watered-down custard and mass-produced pastry. Real homemade is not profitable.
But, as it is not profit what I was looking for, but a smile and a happy belly, this year I decided to bake one myself. And it is one of the easiest things ever, believe me.
I did, however, swap the puff pastry for shortbread. Okay, here's the thing. In my family, we are kind of a pain when it comes to confectionary, because we are half French and feel you just cannot beat patisserie. Guess what, the only tartalettes aux fruits that I have tasted were in charming French towns and always made with pâte sablée. Given the fiasco of my hometown bakery, I just thought to myself "stick to what you know." This is what I know: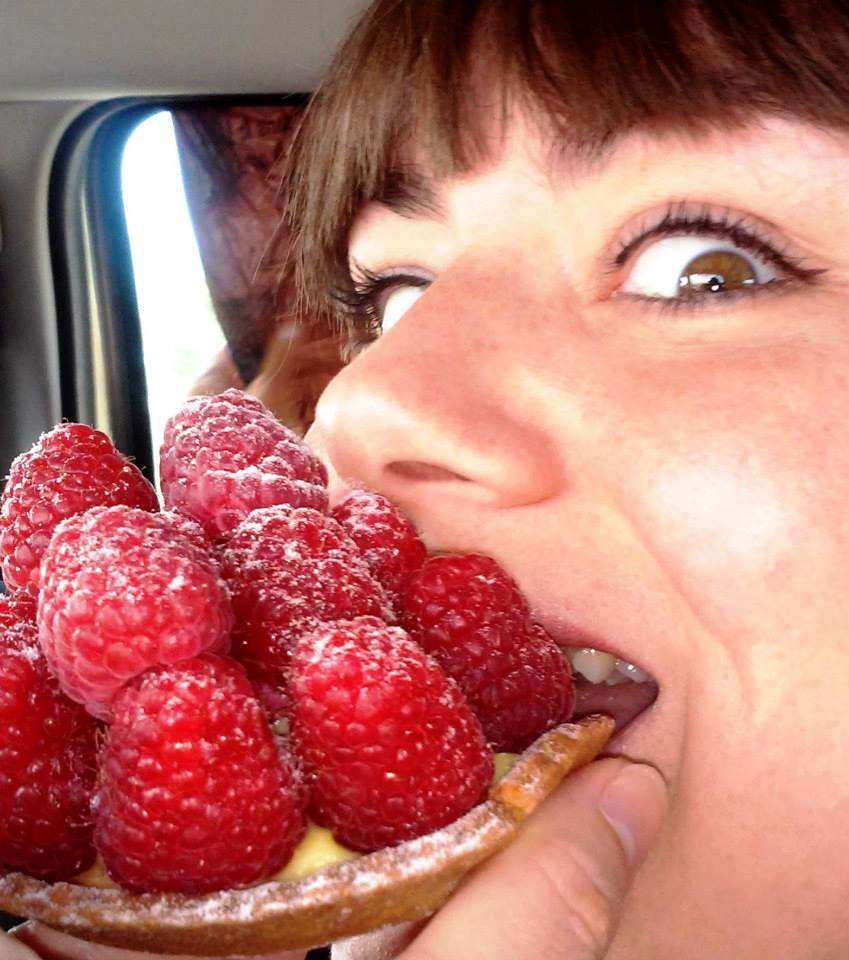 Pâte sablée
1 egg
1/4 cup + 2 Tbsp / 75 g white sugar
2 cups / 250 g all-purpose flour (plus more for rolling and the mold)
1/2 cup / 125 g soft butter (plus more for the mold)
Beat the egg with the sugar, then add the flour. Work it with your fingers until it has a sandy texture (sable in French, therefore the name of this pastry). Add the butter, which should not be melted, just soft, and keep kneading with your hands until you have an homogeneous ball, like the one in the picture below. Cover and refrigerate it, and let it rest for at least half an hour before baking. Then roll the dough as thin as you can and put the shortbread on a buttered and floured mold. Finally, bake for about 15 minutes medium-high temperature.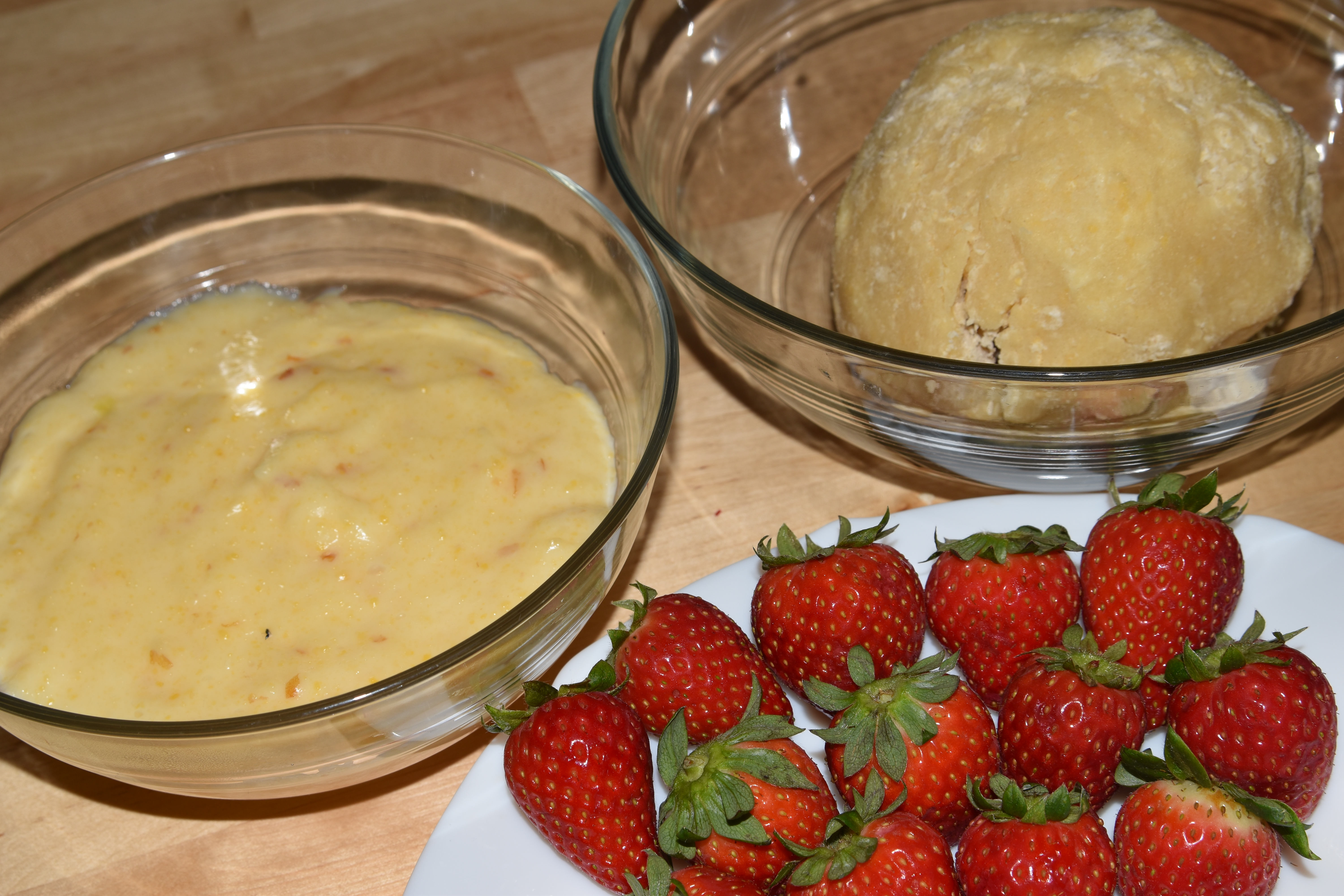 Crème pâtissière
2 eggs
1 pint / 1/2 l whole milk
1/2 cup + 2 Tbsp / 125 g. white sugar
1/3 cup / 65 g all-purpose flour
Lemon zest
Vanilla
Heat the milk, the sugar, the vanilla, the lemon zest, and half the sugar (I also added a little rum, oops) without bringing it to a boil. In a bowl, beat the remaining sugar and the eggs together, then add the flour until you get a whitish homogeneous mixture. Once you get it, pour it to the milk and now you bring it to a boil until the custard thickens.
Once both the pie crust and the custard have cooled down, set a thin layer of custard on top of the shortbread and then top it with pretty much any fruit you like. Look at this for inspiration: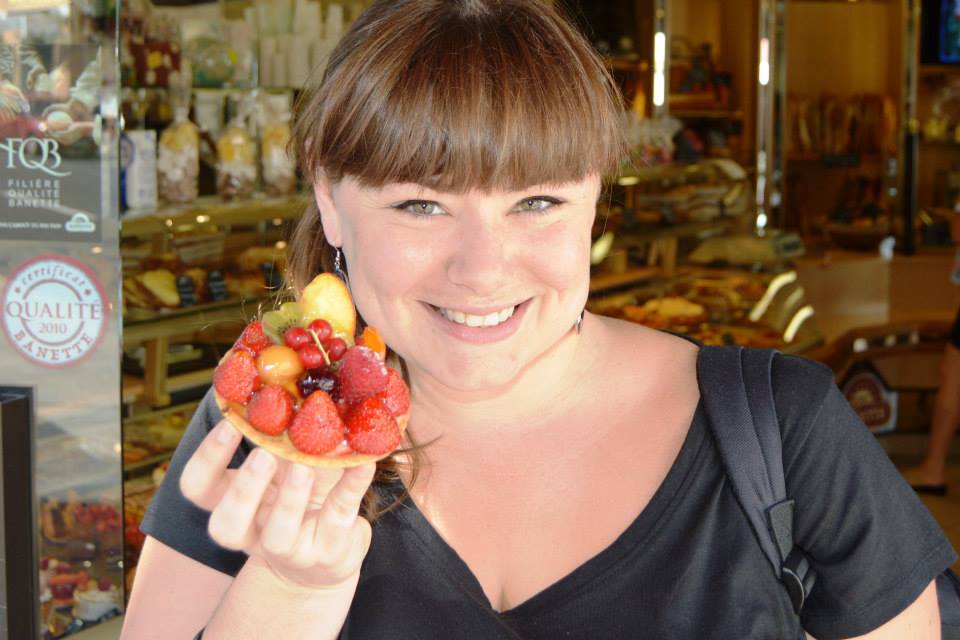 As you already know, I decided to top mine with the last strawberries of the season. To prevent the fruit from oxidation, I painted it with gelatin. I used the neutral one, and I added the purée of a couple strawberries and a little vanilla. Finally, I dusted some confectioner's sugar, et voilà.
Well, not quite. The thing is I had some shortbread left and I felt bad thinking it would go to waste. I was raised not to throw away my great privilege, having more food than needed, so I improvised some cookies. I simply added a little vanilla, some lemon zest and a generous amount of orange flower water. Then, I sprinkled the cookies with golden sugar and baked for about 10 minutes. I thought it was going to be next morning's breakfast, but they didn't last that long…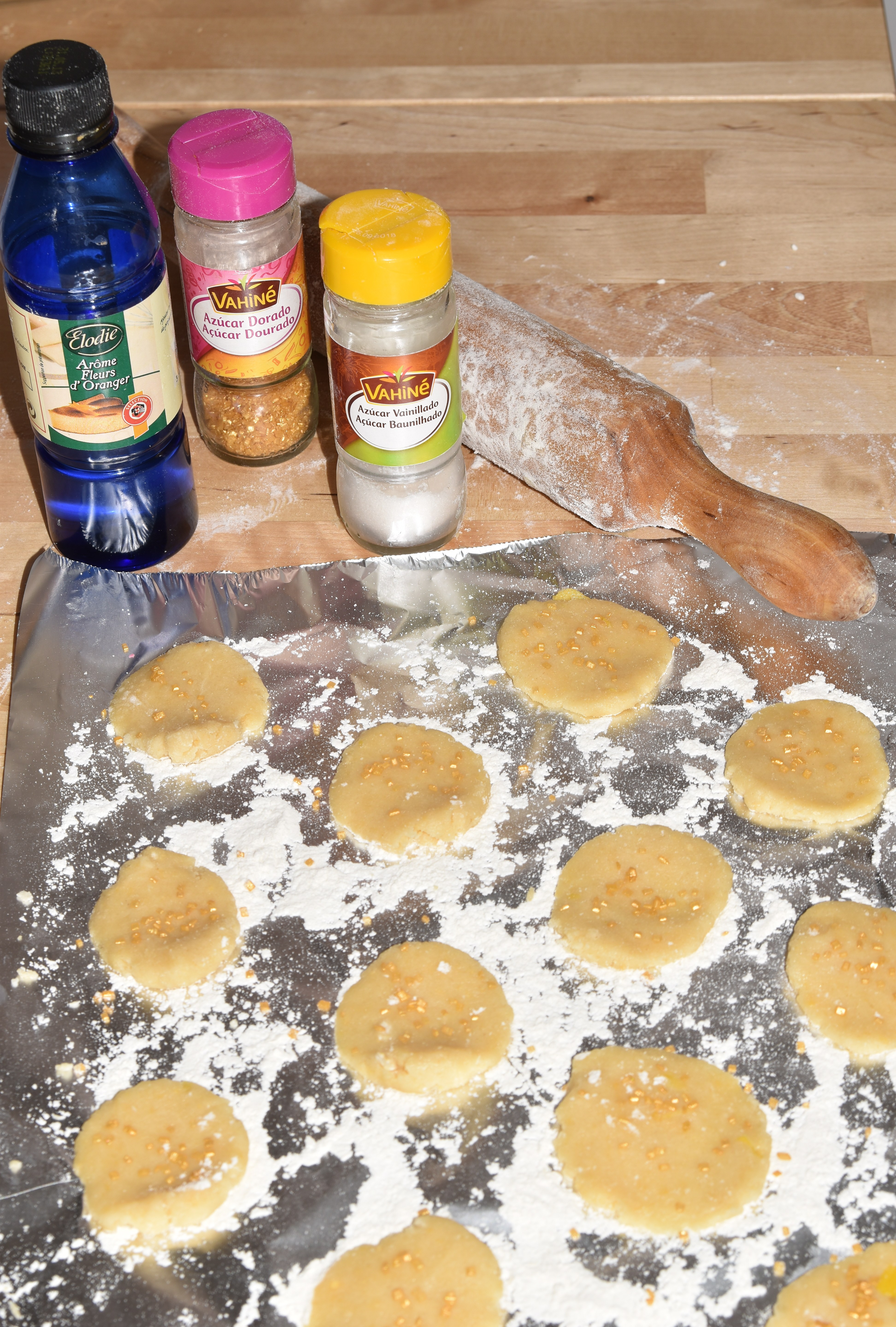 So that was my Mother's Day contribution, along with some octopus I will publish about another time.
I got my love of baking from my mom. I remember making cookies with her when I was a kid, or deliberately keeping our hands cold in winter to be able to shape chocolate truffles, or sugaring and rolling crêpes as she juggled two pans to go faster –we eat so many crepes at my house! So many good memories around flour and sugar. The very least I could do was to try and replicate that strawberry tart.
---
There is a vegan version of this I made some time ago for a dinner party I hosted, where my brother and one of my partner's buddies were invited, and they eat nothing from animal origin. Instead of using shortbread pastry, I used shortcrust, pâte brisée:
3/4 cup + 1 Tbsp / 200 g all-purpose flour
1/4 cup / 50 ml sunflower oil
1/4 cup / 50 ml warm water
1 Tbsp white sugar
An, instead of custard, I used jam. In this particular case, I used a rose petal marmalade, but I usually opt for apricot. This was the result: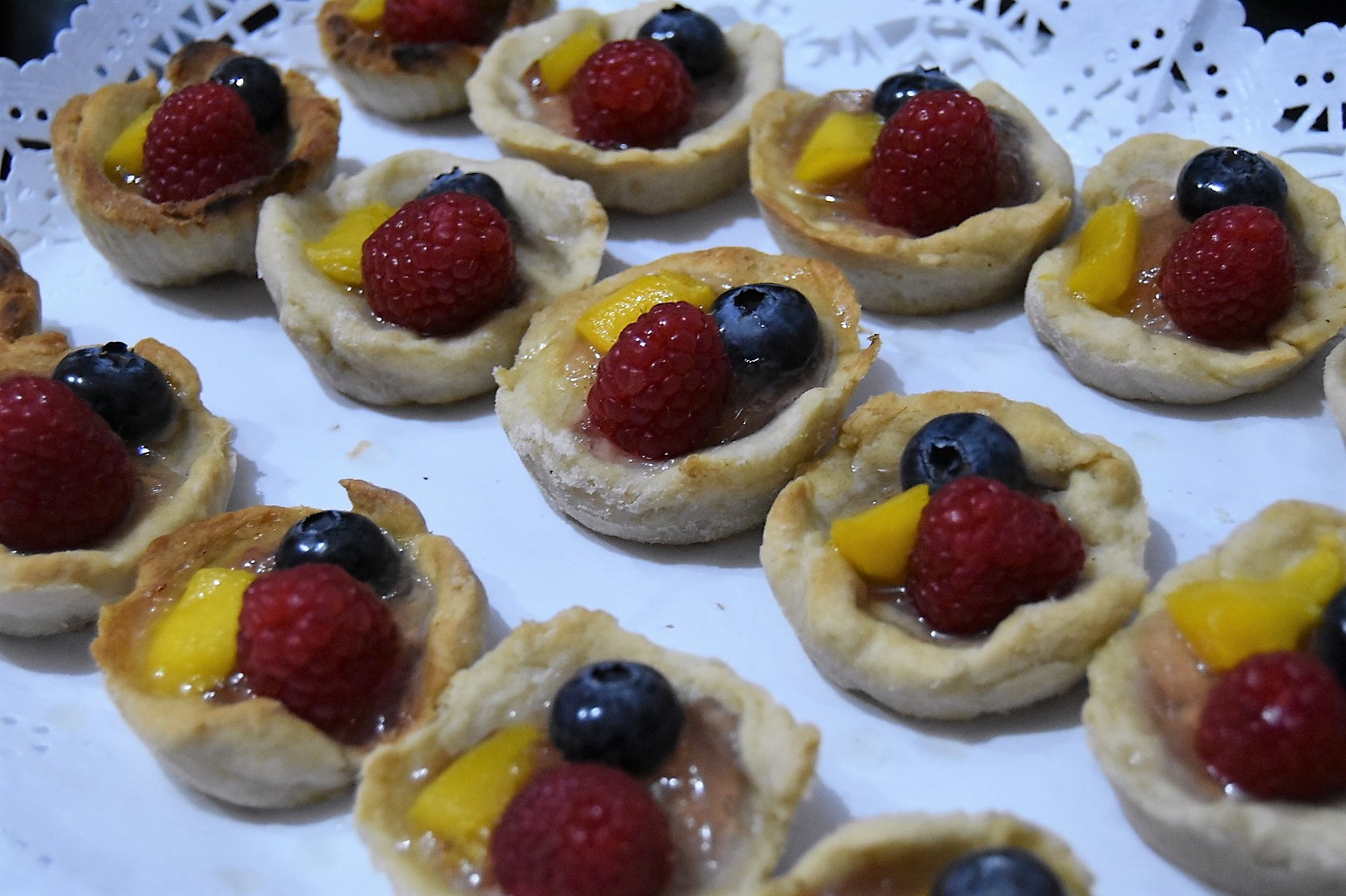 ---
By the way, they do not sponsor me in any way (they do not even know I exist, to be honest) but if you ever find yourself in Béziers, I highly recommend this boulangerie patisserie, where in 2015 my family and I tried the French tartalettes on the pictures. We liked them so much that last summer, coming back to Barcelona after a week in Lyon, we diverted expressly to buy some more. They are THAT good: